BGYR – TCG's Proprietary Performance Management System
BGYR is TCG's proprietary performance management system being used across all portfolio companies, to ensure increased productivity. BGYR has a proven track record of not only retaining high performing employees but also creating a meritocracy-based culture which automatically results in reduction in undesired attrition and increase in desired attrition.
BGYR represents different colour grades which indicates an employee's performance:
REWARD
B represents Blue, indicating an extraordinary performer. The organization ensures retention, high motivation, and increased productivity by rewarding them every 9 months with lucrative long-term benefits, bonuses, and salary hikes.
RETAIN
G represents Green, indicating an Excellent performer. The organization ensures retention by rewarding them annually with a competitive remuneration and salary hikes
WARN
Y represents Yellow, indicating an Average performer. The organization monitors these employees through defined performance improvement plans (PIP) that enables them to move to higher colour grades basis their performance
LET GO
R represents Red, indicating non-performers. The employees are monitored through defined plans that enables them to improve. If no improvement is observed within the defined time frame, it will lead to the separation of employment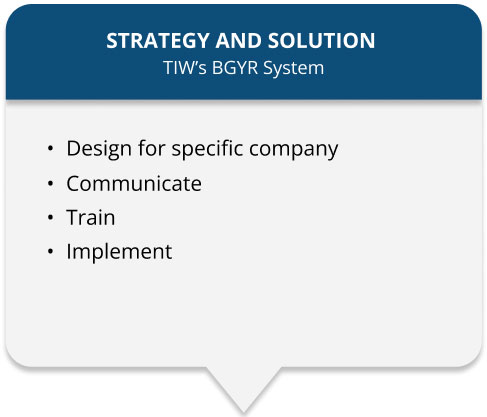 Increase in YoY sales productivity of Company Company A in the Real Estate sector
Increase in the average sales productivity of Company B in the FMCG sector, in their high potential counters
Company C in the Education sector, saw a productivity increase in high revenue generating centres.